Welcome to
Sunrise Family Dentistry!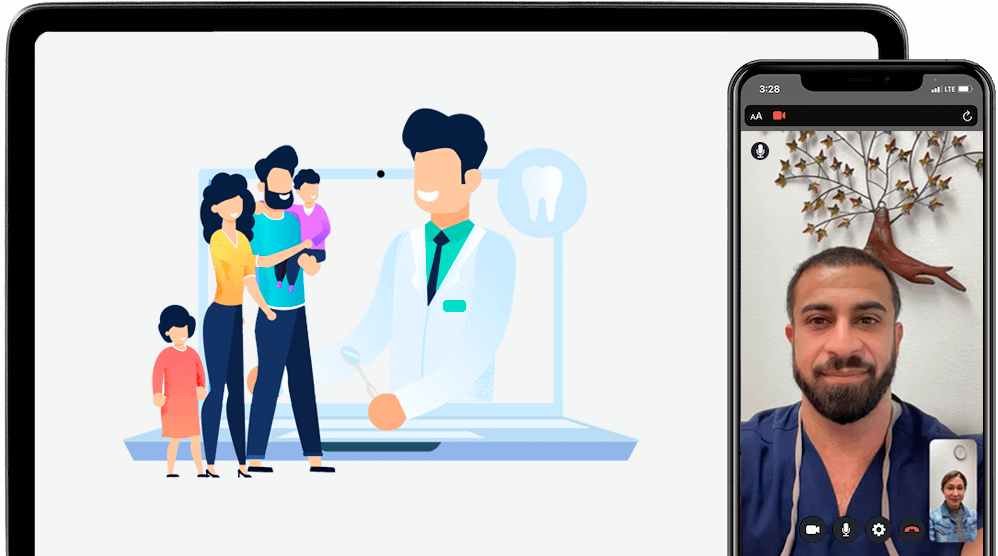 Teledentistry is available!
With teledentistry, you receive dental care without visiting an office.
Teledentistry is the use of communication technology, including audio and video interaction, to remotely provide dental care services such as consultation, diagnosis, and patient education.
Call us to find out more!
DR. AL
CALL US
How We're Different
Dentistry isn't about teeth; it's about people! That's why we're open 7 days a week.
We're focused on your oral health, but we're even more focused on you.
At Sunrise Family Dentistry, we pay special attention to your comfort and your overall experience when coming to the dentist. Our main expertise is in oral care – especially ensuring that your teeth stay healthy, strong, and look great – but our passion is taking care of patients.

We always remember that patients are people first, patients second.

When you visit our office, you'll find a comfortable space that's designed to put you at ease. Sunrise Family Dentistry is a place to relax and to ensure that your teeth are well cared for. Our team members are friendly, caring, and always ready to answer questions and explain anything – from procedures, to treatment plans, to financial and insurance matters.

Whatever your concerns are, we're right there with you.
How we are different
Coming in for the first time? We can't wait to see you! Click below to learn what to expect. Call us: (916) 520-1717
Your First Visit
Patient stories
Broke 2 teeth the last dentist said I needed oral surgery. Found a Dentist that is open on the weekend. Amazing, oh did I mention surgery wasn't needed. They pulled them. The complete staff was friendly, thoughtful and my experience made me, change dentist.

K. Kellar

Dr. Al is a miracle worker! I needed EXTENSIVE work done that I had delayed b/c of dental anxiety & fear of being scolded for waiting so long (I dont have dental ins.). And for wimps like me the even offer sedation.

R. More

We had an emergency late in the evening and although they could have helped us right then we decided to come im first thing in the morning. Anyway, they did a fantastic job of fixing the problem and helping with a plan to fix other problems. Nice people and good prices too. This is the place to go for sure.

J. Furry
Emergency Services
Oh, no! Do you have a dental emergency like a tooth ache, cracked tooth, jaw pain, or a filling that fell out? Please don't hesitate to call. We'll try to help however we can. Often, same-day appointments are possible. Our goal is to resolve your problem and help you get out of pain as soon as possible. Call us: (916) 520-1717
(916)520-1717
Dental in Roseville CA 
Good dental health is the key to a healthy life. Today it is difficult to find a good clinic where you can get the full range of services and take care of your teeth. We present to you the services of the Dental Clinic in Roseville, which can help you to make your life easier!